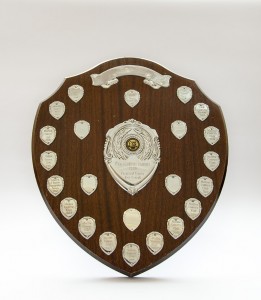 We look forward to another exciting competition this coming Sunday as we wait to see the panels competing for the title of SACC Interclub Champions 2015.  The competition will be held at Loreto Secondary School, Granges Road, Kilkenny.
Can Cork Camera Group retain the title and make is three in a row?  Will long-standing title holders Mallow Camera Club reclaim the title once again?  Do the host club Kilkenny Photographic Society have the winning panels this year having being so close in previous years?  Will the trophy be moving to the South East with Wexford Camera Club & Waterford Camera Club in the mix? Or will it be one of the newer clubs?!
The trophy pictured on the right was donated by Enniscorthy Camera Club and is the trophy that the overall winning club receives. We have several new trophies this year as some of the older trophies had filled up, and we'll be introducing these on the day too.
There are also trophies and certificates on offer at club level for each section and also gold medals for best image in each section individually!
Please note that there is a general meeting of the SACC scheduled for 10.15am. Please attend and welcome the new committee in their introductions, hear the plans for the coming year and get involved with your suggestions.
For some helpful advise on preparing panels, please read this article!
We extend our thanks to the members of Kilkenny Photographic Society who are helping to host the event and to Limerick & District Photographic Society for the use of their panel boards.
The judges are listed below. Please note that no competing club or member is permitted to approach any judge with regard to any scores or decisions in relation to the competition.
 Ciara Drennan AIPF, Portlaoise Camera Club
 Paul Stanley FIPF EFIAP EsFIAP, Dublin Camera Club
 Gabriel O'Shaughnessy FIPF MFIAP FRPS EFIAP/b, Dundalk Photographic Society
Finally, we'd like to take this opportunity to wish all clubs the very best of luck.
The schedule for the day is outlined below and while we will do our best to ensure we follow it as closely as possible, please bear in mind that some parts of the day are always unscripted!  Please note that prints may not be removed from panel boards until the conclusion of the competition.  Each club will receive a printed copy of its scores at the end of competition – please be sure to pick up the copy for your club.
[table id=10 /]