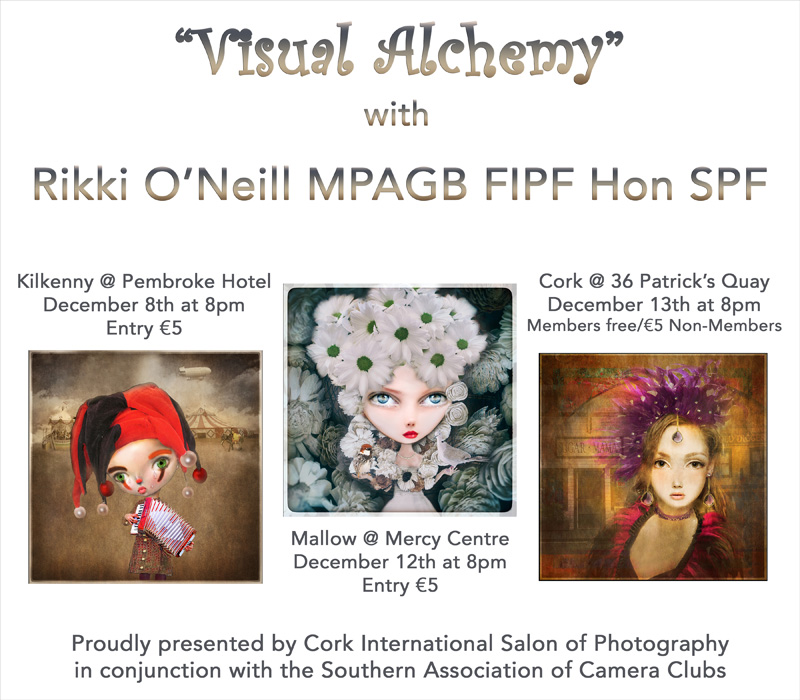 – Rikki O' Neill, FPRPS, MPAGB, FIPF, Hon SPF –
The Cork International Salon of Photography and the SACC are delighted to announce that Rikki O'Neill FRPS will be conducting a lecture tour in the Southern region this December. There will be a €5 cover charge for each talk.
The lecture tour title is " Visual Alchemy ", and in Rikki's own words is …….." basically about my influences as to my style of photography showing other artist/photographers images that inspire me as well as giving my reasons as to the purpose of Photoshop and followed by a large selection of past and present images".
Rikki, who is a self taught artist, began his career as a cartoonist with D C Thomson Ltd. and has produced hundreds of cartoons for the Sunday Post as well as story illustrating for the My Weekly magazine.
He is a creative photographer and artist by profession. Rikki combines his artistic and photographic skills to produce award-winning images in monochrome and colour, and has worked in both film and in digital in the course of his artistic career. He describes his photography as being about images that try to evoke emotion with the viewer by creating a "painterly, illustrative" quality. Through his unique vision, artistry and digital skills he has produced many unique and emotive images. Many of his images have won acclaim both nationally in the UK and internationally!
Rikki has served on the Royal Photographic Society (RPS) Visual Arts Associate and Fellowship panels and was until recently the Chair of the panel. He is also on the Roll of Honour of the Scottish Photographic Federation (hon SPF), a Fellow of the Irish Photographic Federation (FIPF), a Master of the Photographic Alliance of Great Britain (MPAGB) and has also been elected as a member of The London Salon. Rikki has exhibited widely.
The talks will take place at the dates and venue below – see posters at the top of this post for additional details:
Thursday, December 8th at 8:00pm in The Pembroke Hotel, Kilkenny.
Monday, December 12th at 8pm in the Mercy Centre, Mallow.
Tuesday, December 13th at 8.00pm in 36 Patrick's Quay, Cork.
We encourage all SACC members to avail of one of these opportunities to hear from an international leader and authority in the sphere of creative art and photography.