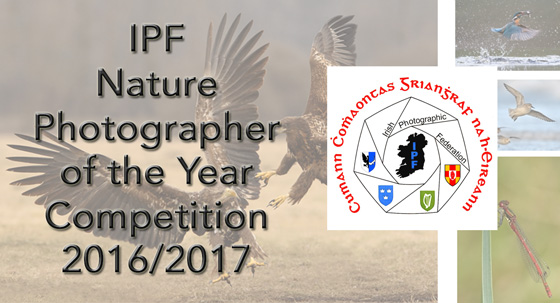 We're pleased to announce that the SACC regional qualifying round of the IPF Nature Photographer of the Year 2016/2017 is now open for entries.
To read more about this competition, the themes for this year, cost of entry etc., please read this post on the IPF Website. You can also access the IPF entry link by clicking here.
The competition is open to all members of SACC affiliated club.
The closing date for SACC Regional entries is December 12th 2016.
The SACC Nature PotY competition will take place on Sunday, January 22nd at the Cabragh Wetlands Trust facility, Cabragh, Thurles, Co. Tipperary.
Please note this year:
All entries should be made through the IPF Website
You must upload a digital copy of all prints at time of entry.
Please note the mandatory labelling system for all print entries. These labels are available for download from the IPF website. You can also access the download by clicking here.
Please ensure that you enter the correct level as defined in the rules – pay careful attention to the definitions of the Advanced and Non-Advanced entry criteria.
For the 2016/2017 season, the sections in full are shown below (from the IPF website). For the full definition of themes, please go to themes page on the IPF Web site and refer to the rules. The first four sections below are run under the FIAP nature definition while 'The Natural World' is defined within our competition rules document.
Print – Open
Print – Theme – Flora and Fungi
Projected Image – Open
Projected Image – Theme – Irish wild birds and wildlife
Projected Image – Open – The Natural World
Entry fee structure listed below:
One Section: €15
Two Sections: €20
Three Sections: €25
Four or more Sections: €30
Judges
We are delighted to welcome the following judges for this years SACC Regional round:
Kevin Murphy, FIPF, ARPS
Des Connors FIPF.