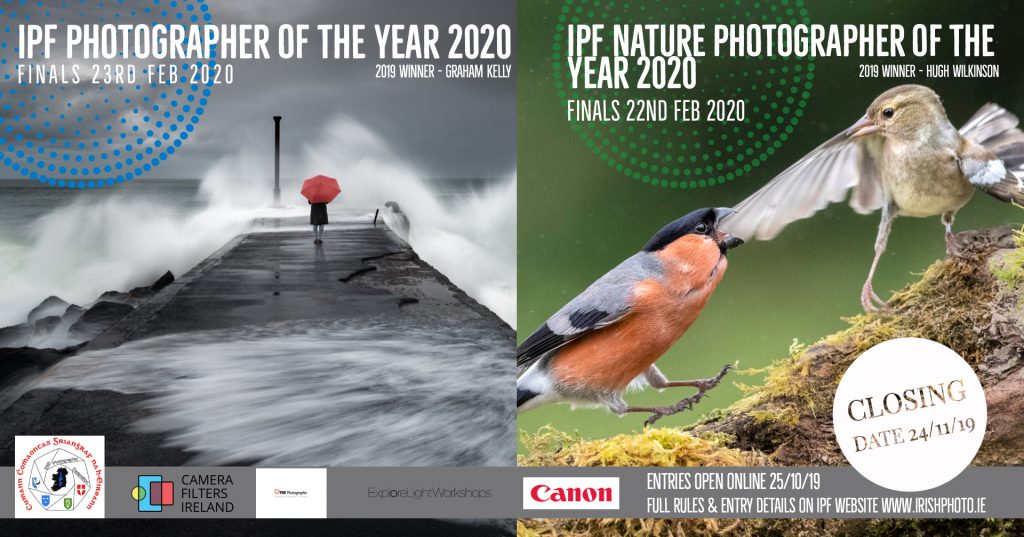 The POTY and NPOTY closing date for 2020 is fast approaching and this year we will have some major changes to the running of the competition. Closing date for entry is 24/11/19. The plan this year is to run both competitions on the same day Sat Jan 25 with the POTY in the morning and NPOTY in the afternoon. To facilitate this change prints for entry will be collected in advance of the competition and we are currently organising several locations so that we can save members travelling huge distances in order to enter. Judges for the SACC competition are Dominic Reddin, Des Clinton and Michelle La Grue.
Collection points will be listed early in January to collect prints and are to include Killarney, Blarney, Limerick, Kilkenny & Dungarvan with more to come. It's never been easier to enter set up your entry on the IPF site links below and we will announce dates for easy collection points around the region.
Categories are listed below and you can click the POTY or NPOTY to enter or go to the competitions page.
1. OPEN Colour Print (CP) – up to four entries.
2. OPEN Monochrome Print (MP) – up to four entries.
3. OPEN Colour PDI (CPDI) – up to four entries.
4. OPEN Monochrome PDI (MPDI) – up to four entries.
1.Print (PA) Mammals and Marine – up to four entries.
2. Print (PB) Birds – up to four entries.
3. PDI (PDIA) Invertebrates – up to four entries.
4. PDI (PDIB) Flora & Fungi – up to four entries