Each November one of the most anticipated and competitive events on the SACC calendar is the southern round of the IPF Photographer of the Year Competition. This year was no exception with members from clubs all over the region submitting images to the event. This year again saw an increase over the number of images for last years competition. As always a high standard made the judges decision a difficult one for the individual events and in selecting the overall winner for The SACC Photographer of the Year which is also the Regional Qualifying Round of the IPF Photographer of the Year Competition 2016 / 2017.
Congratulations goes to Paul Reidy from Blarney Photography Club who was the overall winner and recipient of the Seamus Scullane Memorial Trophy at this year's competition.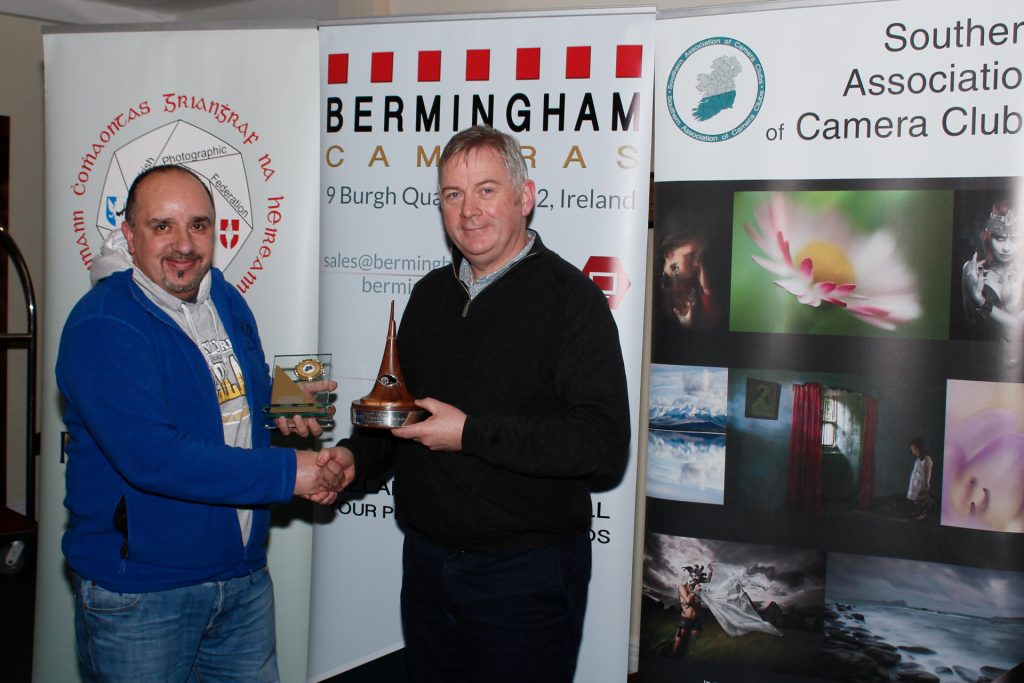 The SACC regional rounds and the IPF PotY competition are sponsored by Bermingham Cameras this year. As part of this sponsorship Bermingham's provided a gift voucher for the overall winner.
Please note that we are unable to show you the winning images as these have gone forward to IPF Photographer of the Year (PotY) national final which will take place in February 2017.
The SACC PotY Competition was held at the Horse & Jockey Hotel, Co.Tipperary on Sunday Nov 20th and had a large attendance.
We wish all those who qualified from the SACC region the very best of luck in the IPF finals. In his closing remark, the SACC Chairman, Richard Dwyer, thanked all involved in helping out on the day and particularly the judges: Joe Doyle AIPF, AFIAP; Michelle La Grue, AIPF and Denis Whelehan AIPF, EFIAP, who did a great job staying focused while reviewing the hundreds of images. He also thank the members of the SACC Committee and all those who entered the competition and those who travelled to the event for their valued support.
Regional and national events such as this bring together SACC and IPF members who share our common interest in photography. Participation in these events is a demonstration of that shared interest, and also their willingness to support each other, and the associations that represent them, by showcasing their best images.
Individual report cards will be sent by the end of this week. Results are below.
[table id=19 /]
[ngg_images source="galleries" container_ids="23″ display_type="photocrati-nextgen_basic_thumbnails" override_thumbnail_settings="1″ thumbnail_width="120″ thumbnail_height="90″ thumbnail_crop="0″ images_per_page="0″ number_of_columns="4″ ajax_pagination="0″ show_all_in_lightbox="0″ use_imagebrowser_effect="0″ show_slideshow_link="0″ slideshow_link_text="[Show slideshow]" order_by="sortorder" order_direction="ASC" returns="included" maximum_entity_count="500″]