The SACC Creative Photography Competition 2015 was held in the Seven Oaks Hotel, Carlow, on Saturday October 31st 2015 and was hosted by Carlow Photographic Society.  Entries were up 10% on last year and, despite competing with a televised major international sports event, attendance was also up considerably on last year. Since it was revived in 2014 the competition has continued to attract an increasing number of entries as interest in this photography genre finds increasing favour with new participants. We were delighted to see photographers from all around the country taking part as this event is a national competition and is open to members from all IPF affiliated clubs. Additionally the top scoring 35% count as Irish qualifiers for those going for AFIAP distinctions. (See Related Links below for AFIAP qualifiers)
Congratulations to all those who won awards. (See Gallery below) in particular to Michael O'Sullivan from Cork Camera Group who took home the top prize of best image with 'Death of Giselle'. We were treated to a diverse and really creative set of images on Saturday, both in the print and the projected sections of the competition. Individual scores will be emailed by the end of the week.  (See Related Links below for Overall Results)
Our thanks to all involved in making this competition a success:
The SACC Committee.
Carlow Photographic Society (in particular Nuala Grogan, Chairperson, and Gilbert Smith for taking photographs during the event. )
Our judges, Ray Spence and Bríd Coakley who provided excellent commentary & feedback throughout the judging.
All who entered and all who attended.
At 11:00am on Saturday, prior to the competition, Carlow Photographic Society played host to a lecture by Ray Spence. The title was "A Personal Focus" during which Ray presented and discussed the photographic art he has created over the past thirty years. This included an extremely interesting and diverse range of work including some stunning creative images which he did in the years prior to the advent of digital imaging and post-processing. There was a large attendance for Ray's lecture and he presented it again in Wexford on Sunday and in Cork on Monday evening.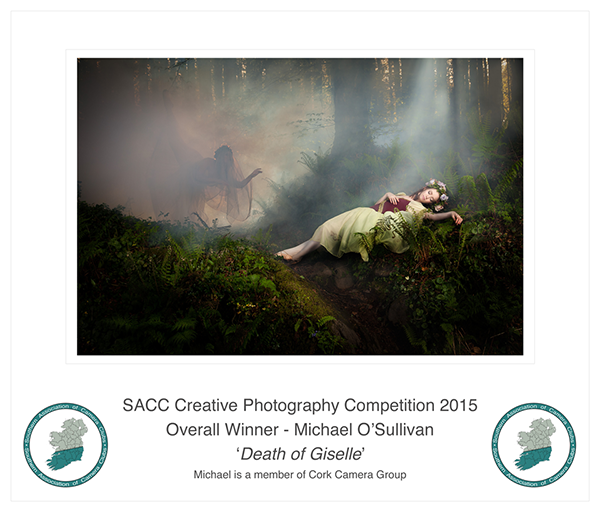 Gallery:
Related Links:
List of AFIAP qualifiers – pdf