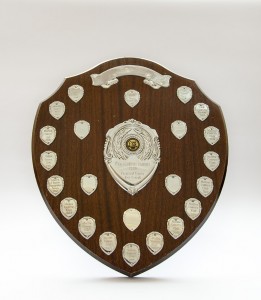 We're looking forward to yet another exciting competition this coming Sunday (March 13th) as we wait to see the panels competing for the title of SACC Interclub Champions 2016.  The competition will be held at Lifetime Lab, Lee Road, Cork City.
The overall winning club trophy (pictured on the right) was donated by Enniscorthy Camera Club and we eagerly wait to see which club takes the overall honours. There are also trophies and certificates on offer at club level for each section and also gold medals for best image in each section individually!
Please note that the Annual General Meeting of the SACC is scheduled for 12.00. Representatives from all SACC clubs are encouraged to attend as plans for the coming year will be outlined and all are encouraged to give feedback and to get involved with your suggestions.
For some helpful advise on preparing panels, please read this article!
We extend our thanks to the members of Cork Camera Group who are helping to host the event.
The judges are listed below. Please note that no competing club or member is permitted to approach any judge with regard to any scores or decisions in relation to the competition.
 Helen Hanafin, AIPF, EFIAP
 Paul Stanley FIPF EFIAP EsFIAP
 Bob Morrison FIPF ARPS
Finally, we'd like to take this opportunity to extend our thanks to all competing clubs and to wish them the very best of luck.
The schedule for the day is outlined below and while we will do our best to ensure we follow it as closely as possible, please bear in mind that some parts of the day are always unscripted! Please note that prints may not be removed from panel boards until the conclusion of the competition.  Each club will receive a printed copy of its scores at the end of competition – please be sure to pick up the copy for your club.
Edit

| Time | Event |
| --- | --- |
| 10:00 – 11.00am | Hanging of Panels |
| 11.00am-1.00pm | Judging (Private) |
| 11:00 – 12:00pm | Presentation on Nature Photography by Charlie Lee |
| 12:00 – 12:45pm | SACC Annual General Meeting |
|   1:00 – 2:00pm | Lunch / Hall open for public viewing |
|   3:00 – 4:00pm | Judges reviews and comments |
|   4:00 | Awards Ceremony |