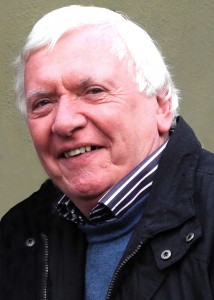 Shannon Camera Club honours the memory of the late Larry Stewart with a new trophy for the SACC in his name which was presented to the SACC, on behalf of the club, by Sheamus O'Donoghue at the recent SACC Creative Photography Competition. The piece below, written beautifully by Sheamus gives us a glimpse into the personality of this wonderful man. We're also grateful to include some of his images in this piece.
---
Larry Stewart, L.I.P.F a member of Shannon Camera Club, passed away on 31st of December 2013. Larry joined the club about thirty five years ago and I think it is true to say that in all that time he never missed a Monday night at the club right up to two weeks before he died. He was a dedicated and distinguished member of the club. I say distinguished because he was one of a small group that had succeeded in gaining a distinction from The Irish Photographic Federation. He was treasurer of the club for many years and whenever anything needed to be done Larry was always there to help. He was the one that cut and mounted all the prints for competitions and exhibitions – all done with a smile. In his work for the Club Larry travelled all over the country helping to put up panels for competitions. He was a regular at meetings of the Southern Association of Camera Clubs and the IPF and some years ago he served as Treasurer of the SACC for two years.
Larry was also interested in Audio Visual work in the club and for a number of years he was a regular at the National Audio Visual championships. He will be remembered for his Audio Visual on the Burren done in his own unique style. His last AV was made in 2012 when, in spite of the illness that was beginning to affect him, he went all out to make a sequence on the life of his fellow Dubliner, the great Harry Clarke, one of the most renowned stained glass artists of all time.
Larry was a gentleman and more than that he was a gentle kind man.
He was a great friend to all of us that were privileged to know him.