---
The SACC regional qualifying round of the IPF National Print & Projected Image Competition 2014/2015 in association with Canon is now open for entries. This takes place @Horse & Jockey Hotel on Sunday November 30th 2014.

Please note:
There is a new online entry system this year. PLEASE pay attention and enter all details correctly!
Registration MUST be completed online. We will not accept unregistered entries on the day of competition.
Payment must be made on the day of competition, or by prior arrangement with us using Paypal if you cannot be present on competition day.
The closing date for entry is midday on Saturday 29th November.
Projected images should be sized to 2400 pixels on longest edge, jpg quality 10.
Prints MUST be mounted in 20″x16″ mounts.
Prints must be labelled on the reverse with:

Name
Club
Level (level as defined by the rules – not by what you think your level is!)
Image title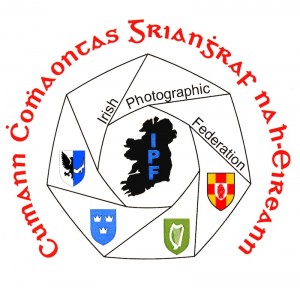 Sections:
Colour Print – Open
Colour Print – Theme – Still Life
Monochrome Print – Open
Monochrome Print – Seascape
Projected Image – Open
Projected Image – Theme – Landscape
Cost:
One section: €10
Two sections: €15
Three sections: €20
Four or more sections: €25
Payment must be made on morning of competition, or by prior arrangement if you cannot travel on competition day
Our judges are:
Ciara Drennan AIPF, Portlaoise Camera Club
Gerry Kerr AIPF AFIAP, Celbridge Camera Club
Paul Stanley FIPF EFIAP, Dublin Camera Club
Schedule:
9.00am-10.00am
Handover of print entries.
Prints for PPI must have been pre-registered via online system.
Prints that have not been pre-registered will not be accepted.
10.45am
Judging starts at 10.45am and will continue in the sequence outlined below.

There will be a lunch break at approximately 1pm.

Colour Prints (open & themed)

Monochrome prints (open & themed)

Projected Images (open & themed)

Awards ceremony

Images that do not qualify for national finals can be collected AFTER awards ceremony.
Qualifying prints will be retained and forwarded to IPF for National Finals.