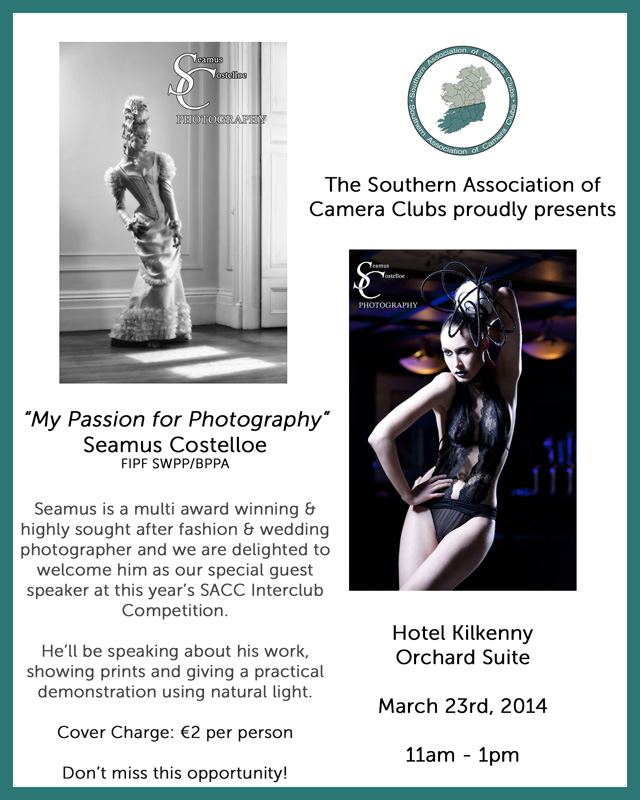 We're delighted to welcome Seamus Costelloe FIPF SWPP/BPPA as our special guest speaker at this year's SACC Interclub Competition and hope that you will all take the opportunity to attend what is sure to be a great presentation! This talk is titled 'My Passion for Photography' and will include prints and a practical demo on using natural light along with a talk about his work. Members from all clubs are invited to attend, regardless if they are taking part in the competition.
Cover charge €2 – see flyer for more details.
Once again we extend our thanks to the members of Kilkenny Photographic Society who are helping to host the event and to Limerick & District Photographic Society for the use of their panel boards.
The judges are Lorraine Gilligan FIPF,  Mark Sedgwick FIPF EFIAP & Paul Stanley FIPF EFIAP.
Finally, we'd like to take this opportunity to wish all clubs the very best of luck.
The schedule for the day is outlined below and while we will do our best to ensure we follow it as closely as possible, please bear in mind that some parts of the day are always unscripted!
[table id=4 /]